I love to meet new bloggers, collaborate with them, and make new friends! Here are a few places that I blog at.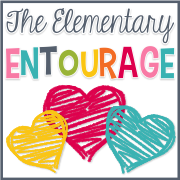 The Elementary Entourage is my LOVE! I love ALL of the ladies that I blog with so much. They are some of the most creative, thoughtful, funny, and talented teacher bloggers that I know. I am so happy that wanted me to be a part of their blogging family. We usually have themed months with tons of freebies, hops, and SUPERB ideas. You should check us out and be sure to follow us so you don't miss ANY of these posts.
Teacher Deals and Dollar Steals is a great blog to keep up with super easy ideas that are usually low prep. Every day there is a new product posted for $1.00. That resource will be $1.00 for 3 days. I have gotten some really great ideas and resources from these great ladies. It covers K-5.